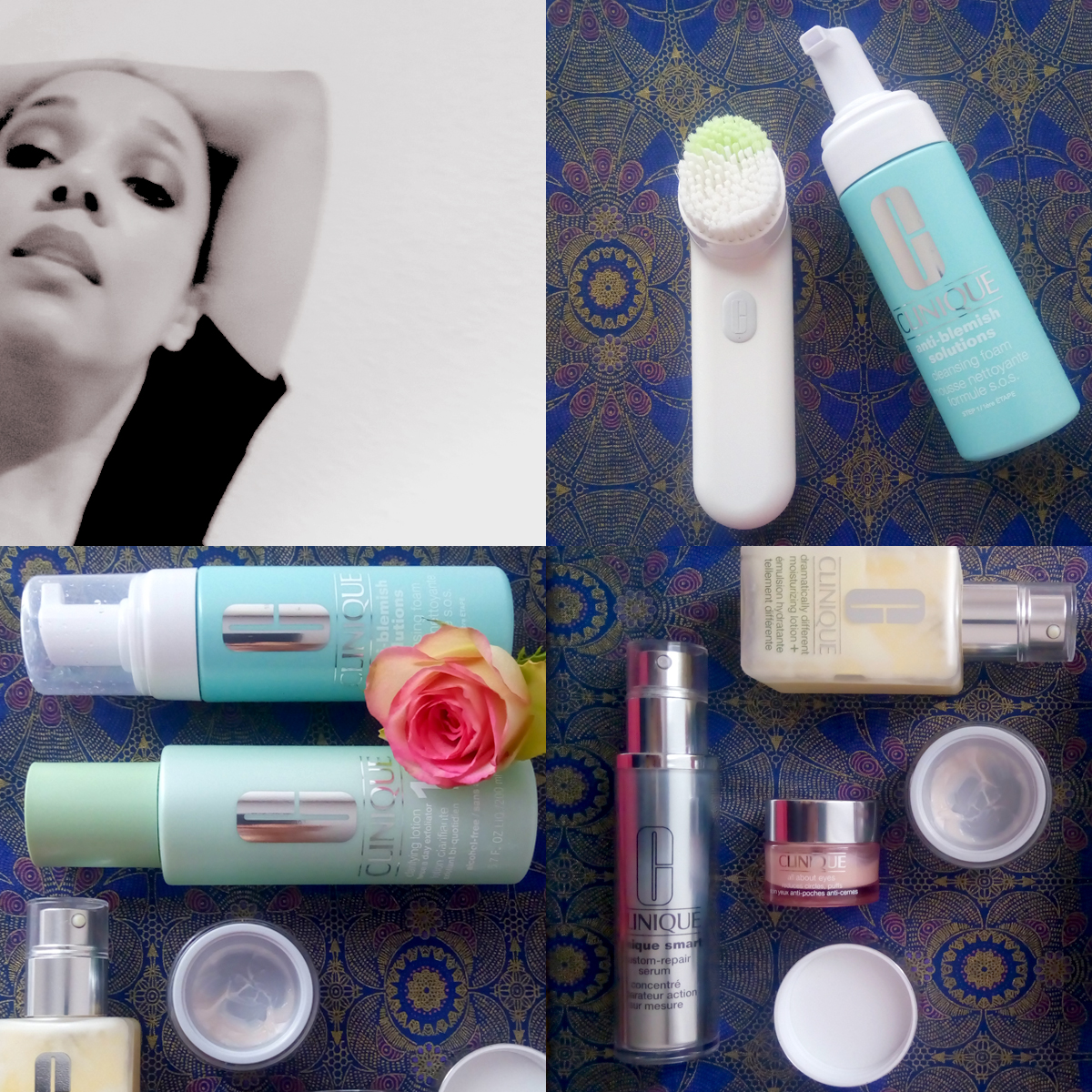 The Twice-daily Routine That Really Works
Do you remember few months ago Aïcha, the make-up expert of Clinique Belgium made up me (first picture)? She did also a skin diagnosis. For one year, I've find my skin very "disturbed and disturbing": sometimes bright then dull with black spots on the nose. Sometimes some acne scars fade slightly while micro spots appear!  
My skin was in bad state and I was really concerned! The worst season being summer with the heat, sweating, sunblock, combination skin discomfort and my laziness. So since the end of July, I've started my new skincare routine with six Clinique products. I was regular in the morning; in the evening I preferred not to put anything. Big MISTAKE! 
For three weeks, I apply them morning and evening which changes everything! Absolutely EVERYTHING! The skin is boosted and cleansed. What an incredible visible change! Upon waking, my skin is just superb! Yes, clear, radiant and smoothed like using Photoshop (lol). Even my dark circles seem brighter.
All About Eyes reconciles me with eye contour creams that are usually too irritating to my very sensitive eyes. 90% of the black spots have disappeared. My skin is smooth, hydrated and nourished. I only have a few subcutaneous spots and  acne scars left. For these matters, I will visit my dermatologist.
The Steps
The ritual begins with the Clinique Sonic System Purifying Cleansing Brush and Anti-Blemish Solutions Cleasing Foam, a cleansing mousse. Step 2: I Clarifying Lotion 1.0 without alcohol. It works like a mini scrub. Step 3: Once the skin is dry, I put on the Dramatically Different Moisturizing Lotion+ which is very nice. It penetrates quickly and gets into the skin very quickly.
Last steps: the anti-aging with a big up to the Clinique Smart Custom Repair! Applied in the evening, the following morning my skin is completely transformed! It operates according to the needs of the skin. If only the effect could last all day, it would be JUST FANTASTIC!
After the serum and All About Eyes, I finish my treatment with the Clinique Smart SPF 15 day cream which I also use at night. I have mixed feeling with this cream unlike the other five. Its texture is absolutely gorgeous, but my skin doesn't absorb it. It does not penetrate and stays on the surface like a thin sticky film. Question: would there be silicones in the serum that would block the penetration of the cream? 
Related posts : BEAUTY