Long Break At The Lounge First & Business Class
After many adventures on my Brussels-Paris route, here I am at Charles de Gaulle airport (Paris, France), where I take my flight to Mahé on Air Seychelles! Awesome, isn't it? After the checked-in and customs, I head towards the Air Seychelles First & Business Class Lounge which is the Etihad's one (Photo 1 on the above photomontage).
The Lounge's entrance is in the center of the posh part of the terminal, between the beautiful shops of Hermès (2), Dior, Prada, Gucci, Ladurée etc … The space is divided in a restaurant with a buffet and small comfortable lounges (photos below). Very soon, I was offered a snack. The perfect spot to work on computer.
Ready For a 10-Hour Flight
My long legs say thank you!
Ideally seated in the first seat of the first row, window side, I am pleasantly surprised by the large space in the Air Seychelles Business class. Three portholes just for me and some sega (music of the Indian Ocean) as a sound illustration in the cabin! Quickly, I sympathize with my neighbor, Lisa, a young lady from the Seychelles. And we take off.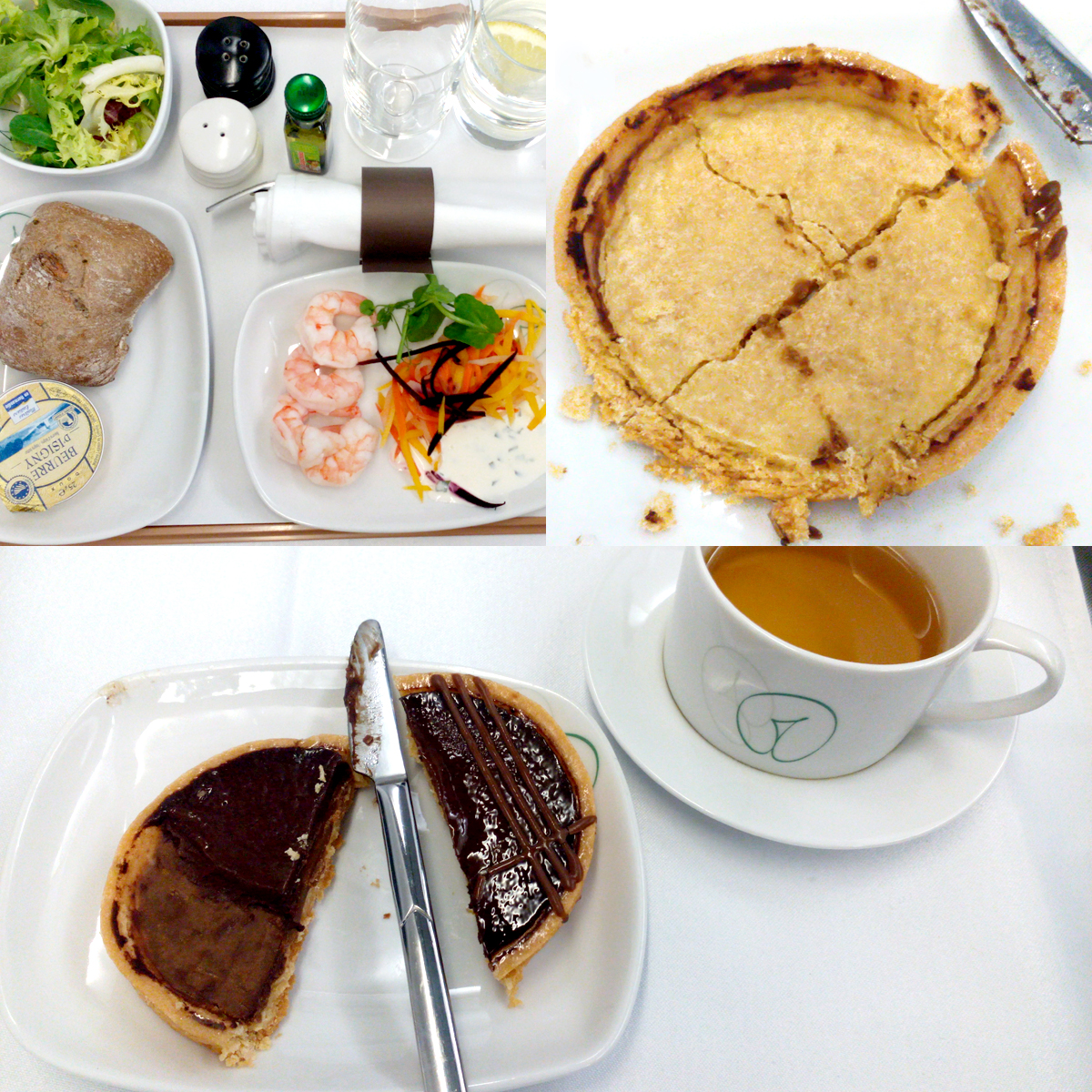 A la carte Dinner
At our request, soon after the take-off, the hostess who looks after Lisa and I, serves our meals in a table service decorated with a stylized design of Coco de mer (the famous fruit of Seychelles endemic palm tree).
I chose steamed shrimps as a starter, then a fish with steamed vegetables (sorry, I forgot to take the picture) and as a dessert (absolutely not reasonable), a rich chocolate tart (above photomontage). Everything was good and the service discreet and efficient.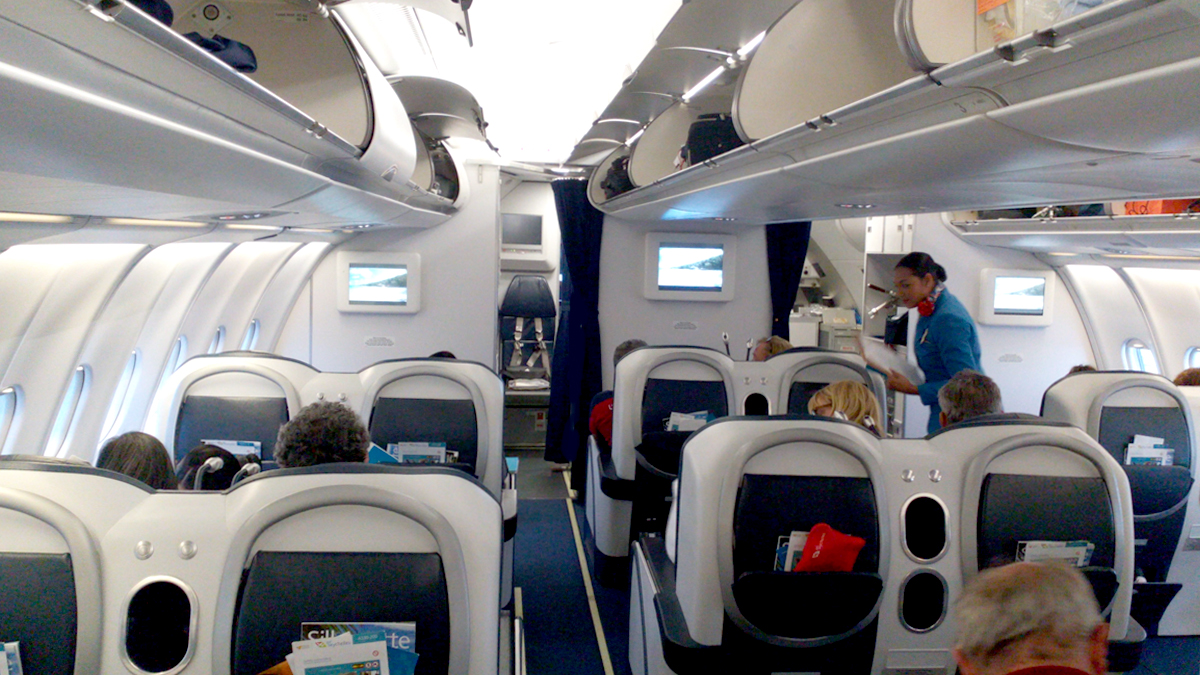 Good Night!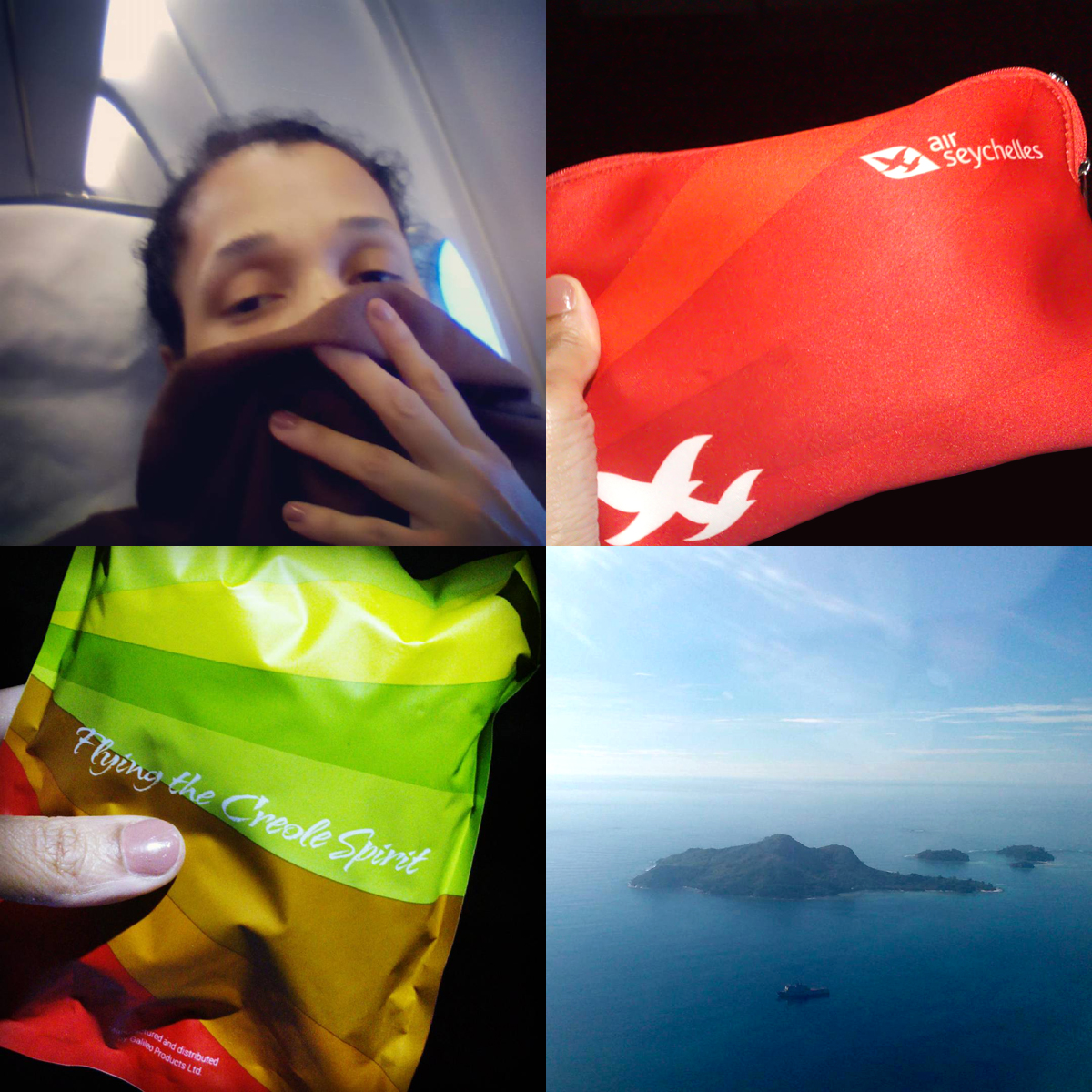 Easy-Peasy Wake-up
As always I didn't sleep the day before and I am exhausted! Once the dinner is over, I simply collapse! No film, no chat, nothing … I pick up the useful Air Seychelles travel pouch to brush my teeth and moisturize my skin. I like disposable toothbrush with mini toothpast tube (above photomontage)! Then I slide my seat into bed position for a short night's sleep: good night everyone!
As soon as I woke-up, the hostess serves me this gargantuan breakfast (below picture)! White beans in sauce, potatoes and bacon in the morning: an absolute no-no for me, LOL! But everything else was delicious. And most of all I feel rested.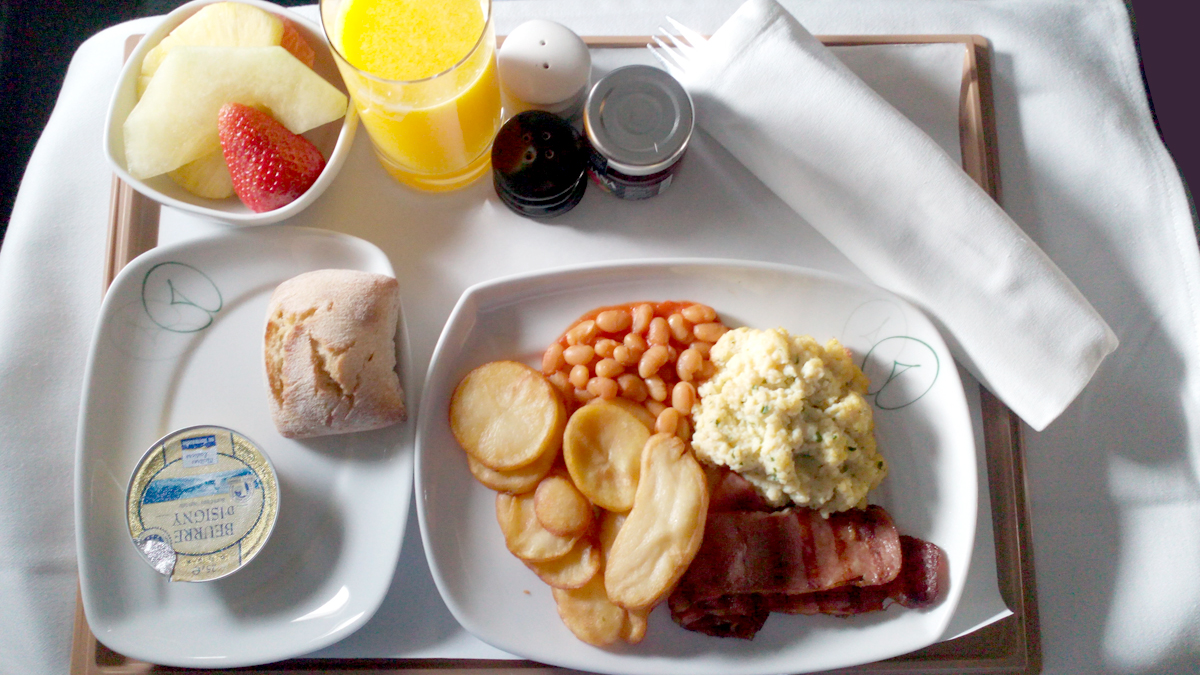 Welcome To Mahe
Beautiful Light
Hi Indian Ocean, I'm back! Yes, it's been a while since we saw each other! This is my first time in the Seychelles, but I already dived in the Maldives. Guess what, this Paris-Mahé flight was so fast! Now, let's the discovery begins! I can't wait to land, get out of the plane and jump in the first ferry to Praslin! To be continued…
Photos : © Mademoiselle Le K – Tous droits réservés.
Informations  
Air Seychelles, Seychelles Tourism Board
Dear Belgian travelers, you can fly with Air Seychelles from the airports of Charles de Gaulle (France) or Dusseldorf (Germany). The flights are direct to the Seychelles.
Related posts : DESTINATIONS & HOTEL REVIEWS
Many thanks to Air Seychelles and the Seychelles Tourism Board for this beautiful invitation. As always, these are my opinions.